Who we are...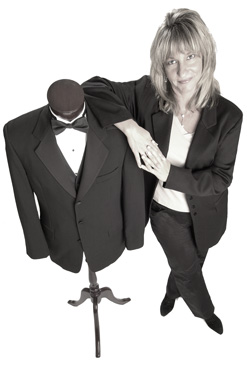 You now have access to over 30 years worth of creative and marketing expertise which has been acquired working for privately held and multi-million companies. Small or large budget... you will get the most efficient results for your investment.
History & Skills
2015
Today you will find a high quality resource network of top talent including: writers, photographers, illustrators, printers and designers all brought together to directly develope custom solutions for our clients without all the middle men. For you, that means more direct communication, more efficient turnaround times and better results than a typical 'full-service' agency.
2000
Webster Defined became a full-time gig to service the advertising and graphic needs of businesses.
1993
Webster Defined was founded in 1993 by Brenda Webster as a creative outlet while employed as VP of Advertising for Nationwide Formalwear, (parent company of Smalls Formalwear).
Skills:
Adobe Creative Suite
Mac & PC platform compatibilty
Complex catalog production
Digital & print collatoral materials
Trade show materials & booths
Critical color reproduction & retouching
Expert coordination with internal & external resources
Award Winning Designs
Experience
Over 31 years of expertise...
Brenda Webster holds a B.F.A. from Moore College of Art & Design, Philadelphia, PA and has over 31 years of experience in the advertising industry with a strong emphasis in retailing. Brenda was employed by large retailers such as: Lionel Leisure (Kiddie City) as Graphic Designer / Production Manager and at Pomeroy's Department Store (a Division of Allied Corp.) as Divisional Art Director for their eight store region.


In 1985, Ms. Webster created an in-house advertising agency, Formalwear Promotions, for Smalls Formalwear, (a division of Nationwide Formalwear) the largest tuxedo distributor in the northeastern USA with over 70 locations in 8 states and 1,500 wholesale accounts in northeastern US.


As a result of her contributions and success, Brenda was promoted from Director to Vice President of Advertising in 1997. Then, in spring of 2000 the company was sold; Brenda decided the time was right to expand her own business Web'ster Defined, which she founded in 1993 and had been servicing the graphic design needs of clients on a part time basis.
Her designs have won numerous awards and recognition including: being featured in Retail Ad Weekly, recipient of two Philadelphia Addy Awards and a National Gold Ink Award and a Communicator Award Honorable mention.


Brenda also taught Graphic Design courses at Moore College of Art's sessions for high school students in Philadelphia. Brenda was chosen as a muralist for 4 years to paint and install murals for Play Planet in Italy. She was keynote speaker at the (AFA) Australian Formalwear Conference in Melbourne Australia, and has lectured at Rosemont College and Antonelli School of Photography in Pennsylvania. Ms. Webster also holds a Divemaster certification in scuba diving and resides in Montgomery County, PA.
Awards



Testimonials
and more...

"It's always a pleasure to work with the staff at Webster Defined.  The design work they have completed on our recent catalog has been exceptional.  They took the time to listen to our needs and incorporated them into a fresh new look.  The style is exciting and eye catching while maintaining it's functionality and ease of use.  Since we have distributed the new catalog sales have increased by over 17% and the comments from our customers are very positive."
M. Sarno - Sarno & Sons Tuxedos, PA

"Brenda manages my companies website as well as other marketing projects. She is very easy to work with and offers website solutions that are often the better way to go than what was thought. What I like best about working with Brenda is that she does more than what is expected. She makes our website more functional and user friendly because she cares, she wants it to be great!"

"Brenda is brilliant: Creative, focused, detail-oriented and professional. She's one of the few graphic designers I've ever worked with who truly understands marketing and the key concept that the goal of a great design is to better position the product and advance the selling process. 

In addition to all that, Brenda is just fun to be around. She is smart and witty and funny and exceptionally great at what she does. If you operate in a competitive market, hire her before your competition does. Whoever has Brenda in their corner wins!!"
D. Blaise - Entrepreneur author & business consultant, Blaise Drake & Company, Inc.